New Everyday Low Price! 
Only $39.99
(120 ct.)
That's a $20 savings!!
NEW!!

Styles and colors will vary in each store and selection is limited to stock on hand.
Before Klean Kanteen®, hydration bottles were made from either polycarbonate plastic or aluminum. We now know that both those materials are associated with a host of diseases and illnesses, info that wasn't common knowledge in 2004 when we released the first food-grade stainless bottle onto the market. But there were worrisome studies, even then, that caused us to doubt the safety of bottles that were on the market at that time.
The founders of Klean Kanteen wanted to give health conscious people a safe alternative to plastic and aluminum. So the very first Klean Kanteen was made from high quality, 18/8, food-grade stainless steel – a metal superior in both strength and safety that contains no harmful chemicals or toxins.
Dr. Murray Reports:
Does Fish Oil Really Boost Prostate Cancer?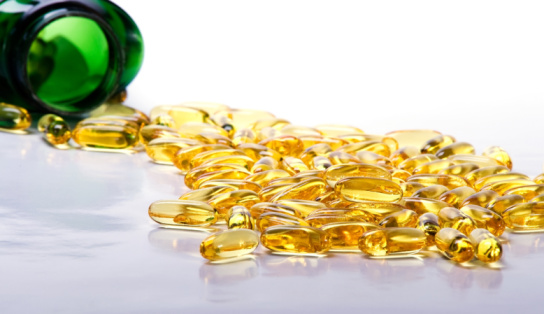 On July 10, 2013, the media jumped on news that too much fish oil might boost prostate cancer risk. As someone who has studied the many benefits of fish oil for many years, my alarm bells went off. The story seemed, well, fishy to me.
So I did what a good scientist and medical person should do. I kept an open mind, but examined the study itself–who conducted it, how it was conducted, and what conclusions were drawn based on hard evidence. After all, a study's conclusion is only as good as the study itself.
Why the Study Is Flawed

The pedigree of the study source is impressive. It was published in the Journal of the National Cancer Institute and was conducted by researchers from the Fred Hutchinson Cancer Center in Seattle, WA.  READ MORE

HERE

.
***********
Dr. Murray Reports:
Fish Oil Increases Life Expectancy
One of the major advances in nutritional medicine is the ability to produce a fish oil supplement that is highly concentrated form of long-chain omega-3 fatty acids and also free from lipid peroxides, heavy metals, environmental contaminants, and other harmful compounds. These "pharmaceutical grade" fish oil concentrates are so superior to earlier fish oil products that they are literally revolutionizing nutritional medicine because of the health benefits they produce by supplying clinical levels of the omega-3 fatty acids EPA and DHA. Read More

HERE
A Special Report From Dr. Murray:
Vitamin D Levels Drop Despite
Massive Education Effort
Introduction:
A huge and growing amount of research has now shown that vitamin D deficiency is very common with some studies showing at least 50% of the North American general population having low blood levels of vitamin D – a finding thought to play a major role in the development in many of the chronic degenerative diseases. In fact, vitamin D deficiency may be the most common medical condition in the world and vitamin D supplementation may be the most cost effective strategy in improving health, reducing disease, and living longer. Those deficient in vitamin D have twice the rate of death and a doubling of risk for many diseases, such as cancer, cardiovascular disease, diabetes, asthma and autoimmune diseases such as multiple sclerosis. The human genome contains more than 2,700 binding sites for active D3; those binding sites are near genes involved in virtually every known major disease of humans.
Background Information:
Vitamin D is actually more of a "prohormone" than a vitamin. We produce vitamin D3 in our body by the reaction of a chemical in our skin in response to sunlight. This vitamin D3 is converted by the liver and then the kidneys to its active hormonal form 1,25-dihydroxyvitamin D3.
The ideal method for determining the optimal dosage requires a readily available blood test for 25-hydroxyvitamin D3 or 25(OH)D3. For optimum health, blood levels should be between 50-80 ng/mL While some people can achieve an optimal level with just 600 IU per day (or 20 minutes of daily sunlight exposure) others may require as much 10,000 IU per day. The only way to determine where a person may fall is by testing. Many doctors are now routinely checking vitamin D status in their patients.
Some Risk Factors for Vitamin D Deficiency:
Insufficient exposure to sunlight – working and playing indoors, covering up with clothes or sunscreen when outside, residing at a high latitude.
Aging – seniors are at greater risk due to lack of mobility and skin that is less responsive to ultraviolet light.
Darker skin – high incidence of vitamin D deficiency and its associated conditions in African-Americans is widely documented. African-Americans are at greatest risk of vitamin D deficiency, due to higher skin melanin content.
Obesity – fat-soluble vitamin D gets trapped in fat tissue, preventing its utilization by the body.
New Data:
Despite a massive public health education initiative encouraging increased vitamin D ingestion and supplementation, a new Canadian study has found vitamin D levels are declining dramatically, falling 6.2% in a two-year period for those aged 6 to 79. Using the blood level for 25(OH)D3 above 50 nmol/L as being the cut off for sufficient levels, 32% percent did not meet this level. There were several important findings in the study:
Only 34 % of Canadians took a supplement containing vitamin D, but a larger percentage of those taking supplements were above the cut-off (85%), compared with non-supplement users (59%).
About 40% of Canadians were below the cut-off in winter, compared with 25% in the summer.
Children and adults who were overweight or obese generally had lower average vitamin D blood levels than those who were normal or underweight.
Although the researchers did not provide a reason for the decrease, the thought is that it is the result of increased sunlight avoidance, but it may also be related to the growing rate of obesity as well.
The results come from the Cycle 2 of the Canadian Health Measures Survey (CHMS) collected from surveys and blood measurements from August 2009 to November 2011. Previous studies have shown vitamin D levels in the United States typically mirror those found in Canadians.
Reference:
Janz T, Pearson C. Vitamin D blood levels of Canadians. Statistics Canada Catalogue no. 82-624-X. Available online at http://www.statcan.gc.ca/pub/82-624-x/2013001/article/11727-eng.htm
The above articlewas authored by Dr. Murray  is available online at his website at  http://doctormurray.com/vitamin-d-levels-drop-despite-massive-education-effort/
Green Coffee Berry is Now Available
at Your Local Nature's Outlet!
"Green coffee berry helped overweight adults lose 17 pounds in 22 weeks.  Another impressive thing to note about green coffee extract is that it actually helps to lower blood pressure, in a world where almost all other diet products present a risk of raising blood pressure"
PGX is on SALE now! $10.00 off!
PGX will Change Your Life.
Follow Lisa Fenderson, Co-Host of Living in the Heart of Virginia, on her PGX weight loss journey.
PGX® (PolyGlycopleX®), is a novel complex of water-soluble polysaccharides (plant fibers). It was developed after many years of research, most of it focused on the link between blood sugar levels, appetite, and weight gain. PGX safely and effectively supports healthy blood sugar levels within normal ranges, reduces appetite, and helps inhibits weight gain.
To understand how one product can do so much you need to understand the link between blood sugar, appetite and weight gain. Blood sugar levels go up and down during the day, for example, after meals. When blood sugar levels are low, the brain signals the body to eat, resulting in food cravings and appetite.
To lose weight effectively, appetite needs to be addressed. To many this involves trying to suppress appetite, but this is a short-term, ineffective solution. For long term success, appetite needs to be positively addressed through healthy blood sugar levels. PGX® helps to address appetite thereby helping you control weight. PGX has also been proven to to support healthy blood sugar and cholesterol levels.
PGX® is taken with meals and is available as a softgel capsule or in granular form. PGX® is sold through health food stores, and through health care professionals and natural dispensaries.  You can feel confident in using PGX®, because it has been proven to be safe in two independent clinical trials.